Requirements for WebReady software
Requirements for WebReady software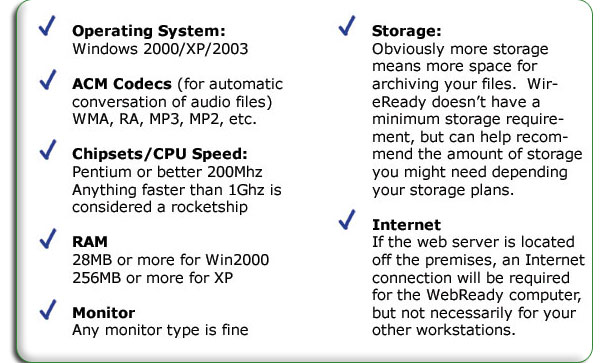 +Click to enlarge image
WebReady is rarely dedicated on its own computer. It's usually added to one computer you currently use for generating content for your web site or it's put on a computer that is already running "back end" applications in your facility. It is a very small program; uses very little memory and is idle except when a job is being sent up to your site.

Operating System:
Windows 2000/XP/2003 Recommended. Older versions available for Win95/98 - but discouraged.

ACM Codecs (for automatic conversion of audio files):
If you plan to push audio files to your web site, and you wish to have audio automatically compressed using Windows Media, MP3, or other common formats, the computer running WebReady must have the applicable CODEC installed in Windows.

For example, for WMA (Windows Media), you'll need to have Windows Media Player 9.0 (FREE) or later installed on your computer (this installs the latest encoding codec). For MP3, the "freebie" Fraunhoffer codec that ships with most Windows computer works with certain sample rates (22K) but for more sample rates, download and use the LAME MP3 ACM codec (FREE). For MP2, consider QDESIGN's MP2 codec (approx: $149). Real Audio applications require that Real Producer be purchased and installed on the computer running WebReady (this is the least expensive way to get Real Audio's encoders - approx: $300).

Supported Chipsets/CPU speed:
Pentium or better 200Mhz. 300-500Mhz are fine. Anything faster than 1Ghz is considered a rocketship. Desktops or Laptops work fine. AMD okay too. If you are planning to push a lot of large audio files (files 5 minutes or larger) a faster processor will allow WebReady to encode the files much faster.

Generally speaking, 1Ghz or faster will encode long audio files much faster than real time. Slower computers will encode faster than real time (for example 5-10 seconds per minute), but a much faster computer can encode much faster. Because WebReady pushes in the background, the user doesn't ever wait for these tasks to complete, but faster computers will make submissions show up faster on your web site.

RAM/Memory:
WebReady typically uses less than 2MB of RAM. We recommend 128MB or more for Win2000, 256MB or more for XP Memory recommendations are more for Windows and other applications than us.

Parallel port/Security Keys:
NewsReady can require a security key in some instances. Currently the security key requires a parallel port. However, site licenses of our software do not check for the key and no parallel port is required if a site license is purchased.

Monitor/Display:
Other than having a screen of some type to monitor WebReady or change its settings, there are no special requirements.

Storage:
WebReady only uses between 2MB and 5MB of space for the actual software and template files. It is assumed that the computer or LAN server that is originating your content has sufficient space to archive what you produce. More storage allows for more archiving.

Internet:
It's assumed that if your WebReady computer is located in one facility, and your web server is hosted somewhere else, that the Internet is going to be used for WebReady to push items to your server. Only the computer running WebReady requires an Internet connection, so if the machines you use to originate content for your site don't have Internet access, this is not a problem.

This page created by WebReady - Powered by WireReady NSI