Switchers & Controllers for NewsReady
Switchers
If you will be setting up a capture station to autorecord satellite-fed audio products or wish us to autorecord other sources, our software is compatible with the SS and ACS switchers from Broadcast Tools. These switchers give us the ability to source select live-fed or autorecorded feeds into the computer (assuming you don't have a dedicated sound card input for each source).
With a switcher, we can route multiple sources as needed into one or more sound card inputs. These switchers also provide relay inputs so we can record and stop based on triggers and closures from satellite receivers buttons, or microphone circuit relays.
Note: Multi-source triggered autorecordings may require the ControlReady or AircheckReady software in addition to NewsReady.
SS 4.4 (replaces the SS 4.2) $499
Matrix audio switching of four stereo inputs to 4 stereo outputs, 16 Trigger(PIP)inputs, four GPO- open collectors and four SPDT relays and more.
BT SS 4.4 web page



ACS 8.2 Plus $879
Matrix audio switching of 8 stereo inputs to 2 stereo plus 2 mono outputs, 16 input GPI port (PIP or Remote Control) with LED indicators, 8 SPDT relay outputs, and more
BT ACS 8.2 plus web page



SS 16.4 $1099
Matrix audio switching of 16 stereo inputs to 4 stereo plus 4 monaural outputs, 4 input GPI port (PIP) with LED indicators, 8 SPST relay outputs, and more.
BT SS 16.4 web page



Please note: The above switchers include BUILT IN GPI relay logic for detecting triggers from your satellite receivers, consoles or wired push button "Remotes." You do not need to purchase a separate GPI device if using one of the above switchers with our Windows based automation software. Control of the switcher is via a single RS-232 (or USB with separately sold adapter) from the onair computer running our software. Switchers also provide operator manual override buttons on the front panel for manual control.
GPI & Interfacing to Consoles
SRC-16 (replaces AT1616L)
In an on-air position, if you want to trigger the start and stop of audio playing through buttons on your console, consider the Broadcast Tools SRC-16 relay controller and RA-1 Rack shelf. It connects to a COM port on the computer and provides relay output logic and opto-input detectors for up to 3 start and stops/faders on your console.
For each channel we latch one relay during play and EOM pulse a second whenever audio stops. $399 includes controller, rack panel, power supply and RS-232 cable. If your computer does not have a COM port, be sure to order a USB converter from our accessories page.



BT SRC-16 web page
Remote Recording & Field Reporting
CircuitWerkes DR10
This DTMF/hybrid autocoupler solution provides the capture station the ability to let remote callers record themselves using a regular POTS telephone inbound line at the station. After supplying a touch tone password, the system can be setup to provide touch tone menus (user programmable) that let them record and/or playback specific WAV file names. These WAV files can be accessed by station staff, or with our ControlReady software, played back on the station at certain times or fed through another automation system.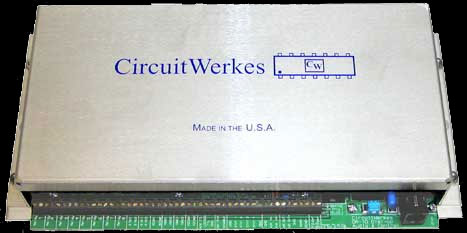 www.circuitwerkes.com
Return to NewsReady32 Product page