News - RSS - podcasting - automatic web publishing
WebReady™ makes publishing so easy, it's like sending an email to update your website
WebReady's Ease of Use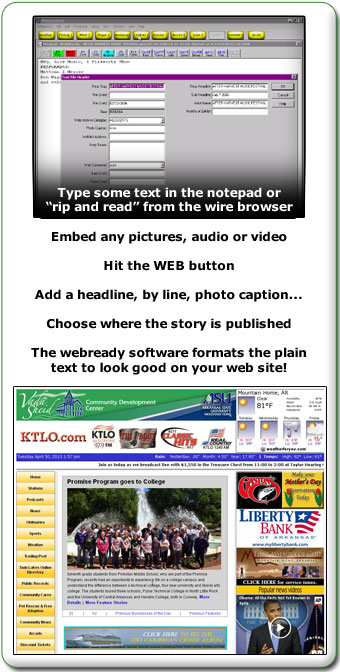 Acquire the technology you need to have a world class newsroom and a real-time updated web site in the 21st century. WebReady lets you use any of our other products to easily send rich multi-media content to one or more web sites with novel new ways to serve your sponsors.
Click here to download the PDF brochure
Focus on writing by creating content in a simple notepad - no design skills needed
No knowledge of HTML, XML, FTP or technical stuff needed - everyone can publish content to your web site
Embed audio clips, video and pictures as easily as attaching files to an email
Auto-convert *.WAV files to MP3 or format of choice for web
Include JPG, GIF or cell phone pictures in your stories
WebReady templates are based on your existing web site design
WireReady can build your web site from scratch too
Push news, sports, and more - anywhere on your site
Use WebReady to maintain lists of obits, announcements, events and more
WebReady can use your news to maintain an RSS feed as well
WebReady templates can also maintain Podcasts for iTunes and other podcasting sites
WebReady is great for news networks, reading services & audio books too - offer more audio on your site
Create more traffic between radio and web site - carry the full audio, full game, etc. on your site
Create more opportunities for your advertisers on your site - let WebReady AUTOMATICALLY pre-pend or append GOOD OLD-FASHIONED audio spots to the sound clips you embedded in your news and events listings. Works with standard *.WAV files your production department can store in our system. Ads are added behind the scenes without user intervention.
Templates can include advertiser text, links and pictures which are automatically added anytime someone publishes information to your site.